Global solar PV manufacturing capacity has increasingly moved from Europe, Japan and the United States to China over the last decade. China has invested over USD 50 billion in new PV supply capacity – ten times more than Europe − and created more than 300 000 manufacturing jobs across the solar PV value chain since 2011. Today, China's share in all the manufacturing stages of solar panels (such as polysilicon, ingots, wafers, cells and modules) exceeds 80%. This is more than double China's share of global PV demand. In addition, the country is home to the world's 10 top suppliers of solar PV manufacturing equipment. China has been instrumental in bringing down costs worldwide for solar PV, with multiple benefits for clean energy transitions. At the same time, the level of geographical concentration in global supply chains also creates potential challenges that governments need to address.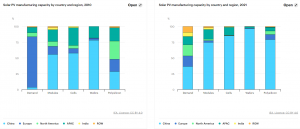 As a professional hardware assembly for solar steel structure supplier in China, Malio always provide good quanlity and moderate price products for customers all over the world.
Welcome any new inquires!
---
Post time: Dec-27-2022